Spent 4 days gathering insights at the Women's International Summit – it's a different kind of conference you may be used to..it included complimentary toe readings.
I know what you may be thinking…but keep an open mind!
The spirit of humanity was infused everywhere, and a desire to give, grow, and effect change hovered in the air.
These particular women ignited that spark in each of us for however you desire to show up in this world with your definition of love, success, and happiness.
It often gets buried under laundry, family, job, and our never-ending "to-do list'. Sherri Salata (past OWN co-president) recommended a "to-be list" in a process she calls "The Reckoning".
How do you want to BE now in the landscape of family/friends, adventure/discovery, meaning/success, creativity/innovation, spirituality/happiness, health/fitness, romance/sex?
She spoke about 're-visioning' your life at any age to continue to DREAM BIG. Can you look back and see pivotal times in your life where you took a turn in a new direction? That's a revision, and you can create it even if you've had the most wild success already – you're not done!
Every speaker shared personal wisdom that moves your soul  – words that cut through when you are present in the room with their soul.
Here's my attempt to summarize their collective wisdom:
1. Melissa Harris-Perry
'Self-care' is over-rated.  We need 'squad care'. There are those so broken in survival mode that the spa or a relaxing bubble bath -even exercise aren't options. Imaginary characters in books & leaders are part of your squad!
*Take away: Surround yourself by a tribe of people who champion, support, energize, and believe in you. Reach out to those who need you, and if you're in need – find organizations in your community.
When Elizabeth was a struggling writer, her idol (who she admitted to stalking at parties) finally turned to ask her:
"What are you willing to give up to have the life you want to keep pretending you care about?"
Whew! You could feel a silent gasp fill the room as we heard our own excuses rise to the surface.
*Take Away: I have to say NO – even to the things I care about to make room for my highest of priorities. I may disappoint or piss people off. Get rid of distractions – all of them – you know which ones. Decide who & what matters. Edit the rest.
Sometimes a diagnosis will tell you.
Say "I respectively do not care."
Liz was looking for something revolutionary in women beyond the 'powerful, strong, badass, confident' ones we all know. She found it in learning to be RELAXED no matter WHAT insanity is taking place in our lives.
Too many are walking with our minds WORRIED moving at a BUSY pace to a point of deteriorating health, little sleep, and addictions into food, shopping, medication etc. 
She practices the phrase "It's all going to be all right". It's not "relaxed' in the form of a hot stone massage, but more like 'befriending' the inevitable mess.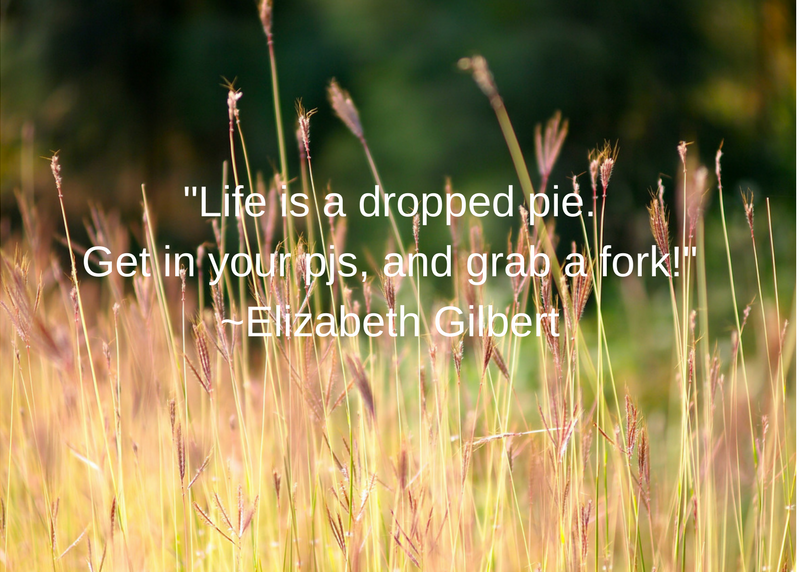 There's a clarity, and simplicity when you find this place of 'relaxed' within you.  Even when facing your own death, which is the one thing we know for sure, and have no control over. There's no regrets when you find this 'relaxed' alignment, which requires a mystical faith in something bigger than yourself.
I've been learning from Marianne's work for many years. Her classic book "A Return to Love" I finished at a Disney resort in the early morning sunlight before our vacationing families were awake. It was 2009, and I felt a higher consciousness rise up in me after turning the final page.
It was also the same year I certified as a life coach – a career change leap of faith (revision!) for me from accounting.
Many of you know I used to see "11's" as a child (typically as 11:11), but also 2009 is really "11" (2 + 9).  Once that inner consciousness began to rise, I started seeing 11:11 ALL the time. It's a sign with profound meaning for me.
I only noticed now the significance of a drawing by my daughter that's been hanging in my garage for years – no idea how it got there! I kept meaning to take it down…signs show up in the most unusual ways – be curious, and pay close attention.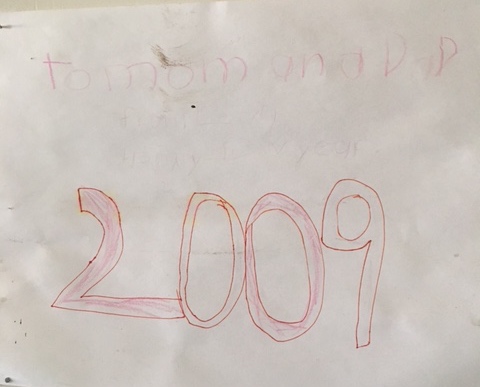 Marianne has the ability to silence a room into stillness, to have whole audiences forgive, weep, and leave enlightened. In a room filled with a 1,000 women open to changing the world, the fierce side of her was alive and present!
I've never heard her SO passionate about our role, and responsibility as women leaders now more than ever.
She shared that a "summit" implies reaching upwards, and at some point between us as a child, and us as an adult we must be clear on the ground on which we stand.
That EVERY child is our child – that we are part of a human family, and right now it's a scary world.
It's what I love about Marianne – any complacency you might have had gets wiped out with the reality of what we've created. She calls you forth like no other.
For some – it was too much, and a few women walked out. She reminded us that when you stand up for what you believe in – it's not loud enough if you don't have people uncomfortable or resisting you.
That's how you know you've risked standing bravely in your truth.
As a journalist on C.N.N visiting countries most of us would not venture into – Lisa provoked deeper awareness  from her reporting on sex trafficking, war, terrorism, North Korea, and the 30M more males than females in China due to their 1 child policy.
She opened our eyes to how little thought is given when you put $1B worth of weaponry into a country like Afghanistan to fight a war, and leave it there when there's no infrastructure.
How the choice to abandon girls in China could be understood (not condoned!) as an economic decision from their perspective as opposed to a humanitarian one when you look beyond our own judgments.
I won't forget the image of her visiting North Korea with a team of eye surgeons to fix cataracts, and the throngs of patients all taking off their surgical eye masks together in a conference room similar to the one we sat in, and discovering they could miraculously see for the first time.
They did not thank the surgeons, but rose up to cheer the name of their oppressive dictator in unison. How an entire country can function like a religious cult gives me the shivers. No easy answers when people are brainwashed, and restricted to 2 propaganda channels.
She left us with what her friend once said to her:
In response to how she stays hopeful: "Yes I've seen the worst in humanity, but at the same time I've also experienced the best in humanity right alongside."
5. Glennon Doyle Merton
This fun-loving author of Love Warrior made us all smile. Her unwavering honesty admitting that she does NOT practice yoga, and is 'medicated' in response to how she stays so positive made us love her more. She's been through the painful abyss, and found true happiness on the other side.
Like Liz Gilbert, she recently found love with another woman, and left her husband prompting all kinds of interesting conversations at this event!
She described how women vote their bodies off the island, while men vote emotions off the island. Women aren't comfortable in their bodies, while men aren't comfortable expressing emotion. Then we "frickin' marry each other"!
Her message: don't be afraid of pain. Go towards it. Allow, and give space for it. It's not our job to stop or fear pain. Figure out what breaks your heart, and you will find freedom.
I was mesmerized by the fearlessness of this incredible woman.
Her father was Saddam Hussein's personal pilot.
She was a survivor of the Iran-Iraq war, and co-founded Women for Women International to help women suffering from the effects of war. It's raised hundreds of $millions.
But she hadn't broken her own silence.
It was after a woman in Congo shared having her own sons forced to hold her legs open, and instructed to rape their own mother. When they refused, they were shot.
Zainab was so humbled hearing this woman's telling her truth to help other women when she herself hadn't shared her own painful story.
She was moved to write her memoir: "Between Two Worlds" despite her fear of judgment due to her connection to Saddam, and suffering abuse in an arranged marriage.
She confessed to having lost the "I in me" while advocating for women to be happy, and healthy by speaking their truth. She left her charity to do her hardest journey of self-healing.
It was about not betraying herself. Telling her truth. The war between the U.S. & Iraq broke out within a month of getting married to an abusive husband arranged by her mother in the U.S. For the next 9 years she lost contact with her family in Iraq.
She later learned her mother sent her away to protect her from Saddam, but for years she felt her mother had betrayed her.
Zainab taught how we must not see people as 'us and them' – that the only way to understand one another is to stop our judgments, and give respect to the 'ugly', and what we fear with curiosity so we do not become arrogant in our own self-righteousness – the shadow or dark side of ourselves.
It was all so familiar with my own vision of creating a judgment-free world! She quoted one of my favourite Rumi sayings: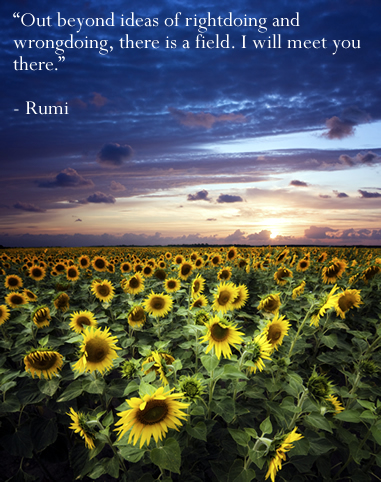 She concluded that "the taste of Freedom is so delicious." It's worth taking the leap of faith into the abyss where the good, bad, and ugly will flow, and you will find a place to land.